Comments Off

on Update from Learning Paths in Europe

Category:
Uncategorized
After signing the agreement with Learning Paths to establish Learning Paths Europe we've been working hard to get the news out.  One of the reasons to tie up with Learning Paths International was that I could see this very practical, process driven, methodology working hand in hand with HeRoes tools and training as well as fitting in the Lumina Spark Personality Profiling we represent in our region.
It all seems to fit like a well laid out jigsaw puzzle. To my, pleasant, surprise the positive responses from the various countries came in quickly. Actually, much faster than we had ever seen with other product announcements.
That made me wonder …. Why is that?  We've always offered good training programs, the best possible personality profiling and great innovative online HR-tools.  The answer, after evaluating the many responses  we've received was clear:
Clients want something practical, giving quick, but lasting results. If the ROI is measurable and giving better bottom line results within a time frame of months or even weeks ……. they will go for it.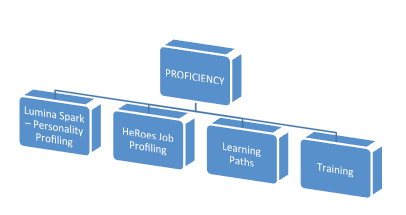 What also helped us was the bad experience that companies often had with training. Lack of measurable improvements positioned training and development often in the category of cost instead of investment.
Here they could read about recognizable, reputable companies giving examples of tangible savings …..   If they benefit from it why shouldn't we?
As for Psychometrics / Personality profiling, I believe it is still an area which is alien to a lot of people. Fortunately the acceptance of such tools especially ones that do not "box" or "type rate" people gains territory.
Over the years I have seen the "magical" effect of integrating Personality Profiling with blended learning solutions and have achieved immediate results with it that would normally take forever or not happen at all. As mentioned Lumina Spark made by Lumina Learning, a product combining Jungian principles with Big 5 research is the one to look at.
For potential partners and/or clients of Learning Paths I can only state that if this announcement triggered so many positive responses in such a short time, it would be sensible for you to have a look at it. Not all people can be wrong.  We are there to help you explore the various options.  www.heroes-emea.com
Tags:
HeRoes
,
learning paths
,
Personality profiling
,
Psychometrics